Are you in need of a feel good story today? Well look no further than the remarkable life and art of Mose Tolliver, an African-American folk artist that depicts the South through his own lens.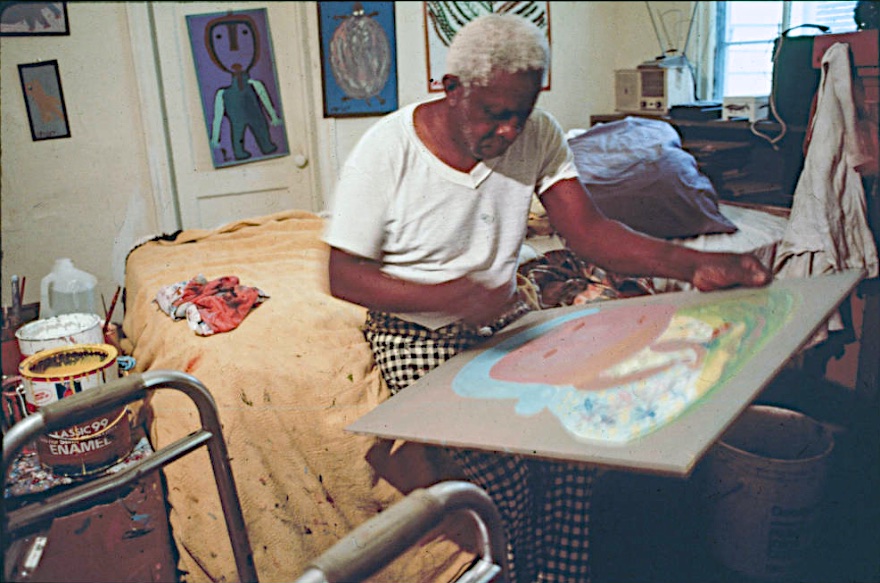 Tolliver was born to sharecropper parents in Montgomery, Alabama as one of twelve children. He worked a variety of odd jobs to make ends meet mostly in the shipping yards. One fateful day when sweeping a loading dock a half-ton crate of marble fell crushing Mose's ankle in the process. Out of this tragedy came something beautiful: Art.
To help cope with his new found limited mobility, Tolliver, after the not-so-gentle persuasion of a friend, found painting as a calming new hobby. Although his injury altered his life course, Tolliver reflects that he "probably would have never painted if I hadn't gotten hurt." This new-found passion transformed a beloved Alabama dock worker into one of the most renowned untrained folk artists of all time.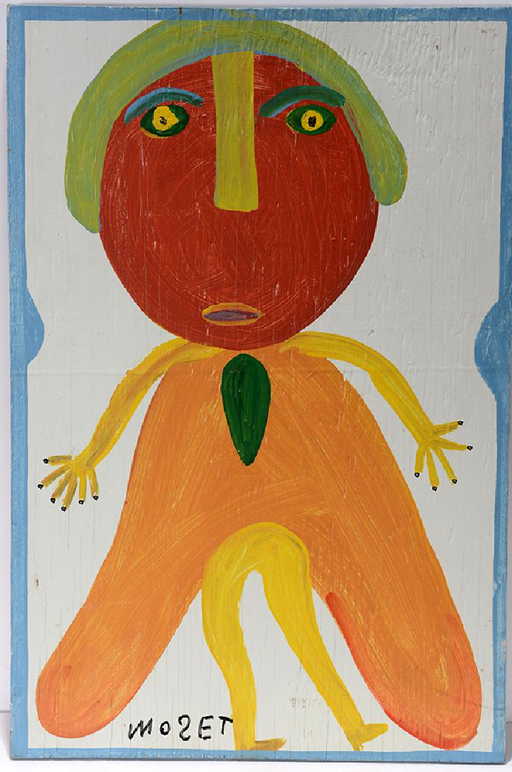 With humble beginnings as an artist Tolliver painted on whatever scraps he could find, often Masonite, furniture, cardboard, and whatever else was discarded. These scraps were given a second life with old house paint and well-loved brushes. He would paint on his front porch offering to sell the works to anyone that so happened to glance on their way past believing that the work was only truly finished when someone had purchased it.
As an artist many of Tolliver's themes were drawn from his own life depicting scenes from his front porch. He was known for painting whatever he felt like painting, whether that be a bird, watermelon, or himself. The Tolliver style is characterized by the whimsical colors, abstracted simplicity, and one-dimensionality of his works. This "flatness" is at times interpreted as representing Tolliver himself as he was flattened in a way. His injury is also seen in his numerous self-portraits depicting him with crutches. His signature in fact became his signature with each painting inscribed with "Mose T." with a backwards "s" adding his same character to each work of art.
Tolliver entered the art scene much like he began painting… by mistake. A local museum curator passed his front porch and was captivated, later setting up a solo show at the Montgomery Museum of Fine Arts in 1981. It was not until the following year that Mose rose to fame as he was featured in "The Black Folk Art of America: 1930 to 1980" exhibit in the Corcoran Gallery of Art here in Washington DC.
From there there was no turning back for Tolliver. His pieces became so highly sought after that he was creating ten works a day and was still unable to keep up with rising demands. His works have been featured in exhibits all across the country in celebrated museums such as the American Folk Art Museum in New York, High Museum in Atlanta, and Smithsonian American Art Museum. And while fame found Mose, you could have still found him on his front porch.
Stay tuned for more Mose T images in the near future.
And Stay Inspired,
The Margery Wedderburn Interiors Team